What is your role at UMB?
As the chief legal officer, I'm responsible for the management, strategy and operations of UMB's Corporate Legal function. This includes reviewing and providing strategic legal advice and counsel to company leaders while managing the legal team and working with my team on problem solving and general legal advice.
Did you always know you wanted to be a lawyer? 
Surprisingly, no. I grew up on a farm outside Joplin, Missouri, and didn't know many lawyers or have exposure to the practice of law. I attended the University of Central Missouri (UCM) with the intention of studying musical theatre but discovered early on that while I love the arts, they weren't my true calling.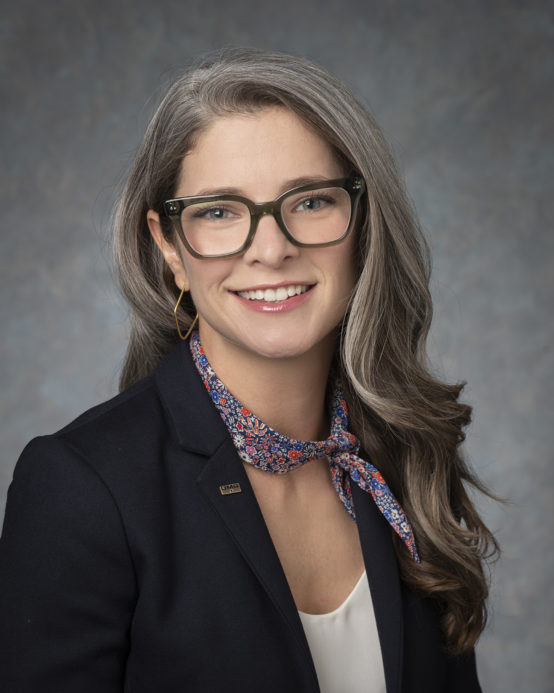 Instead, I thought back to what I loved most in high school, and that was speech and debate, solving problems and politics—a perfect mix for a political science major.
So, I graduated with a bachelor's degree from UCM and took a leap of faith and started studying for the LSATs to pursue a law degree. I graduated from the University of Missouri (MU) law school in 2010 and began my legal career working at a nonprofit in KC before working as a judicial law clerk at the Jackson County Circuit Court. After two years as a clerk, I joined the law firm of Walters, Bender, Strohbehn & Vaughan as an associate attorney working on commercial litigation before joining the UMB team.
How has your career continued to grow since then?
Working at UMB has given me a great opportunity to find what I am good at and continue to morph my skills over time. I loved being a litigator, but UMB is such a diverse financial institution, I found myself interested in maturing our entire department and the technology and processes we use. I presented the idea for my next role to my boss and our CEO, and they agreed. Since then, I've been asked to manage the legal team where I continue to drive my passion for developing our department and people at UMB.
What community service activities are you involved in?
Outside of the office, I am on the board of and volunteer with my husband Nate at the Lazarus Ministries kitchen and clothes pantry‡ in Kansas City where I can oftentimes be found working in the "shoe room," where we're responsible for helping those less fortunate find a pair that fits them just right. Although it's not the most glamorous job, I love helping people find basic necessities that many take for granted.
I also volunteer at Cultivate KC‡, a nonprofit that grows and shares healthy food for area residents and educates the community on sustainable and local food. Gardening is a passion of mine, and every year I grow hundreds of heirloom plants from seed from my garden to give to neighbors and friends.
Why is mentoring such an important part of who you are today?
Without the support from the mentors I've had over the years, I wouldn't be where I am today, so I spend a lot of my time mentoring and giving back to others. One program I'm involved in is the Association for Women Lawyers of Greater Kansas City (AWL)‡, an organization formed to help advance the role of women in the legal profession. I've been a member for nearly 10 years and I currently mentor a University of Missouri – Kansas City (UMKC)‡ law student through the program.
In my early years as a lawyer, I was selected to join AWL Connections, a mentorship program where five senior level attorneys from different practice areas mentor five junior lawyers for five years—rotating mentors every year. The program was instrumental to my career growth and really ignited my passion for helping and mentoring others.
Outside of AWL, I volunteer for Big Brothers Big Sisters of Greater Kansas City‡, mentoring a Kauffman Scholar‡ through the program. Throughout the year, I also go back to UCM and MU to speak to prospective and current law students at my alma maters and have been invited to speak to law students of both the University of Kansas and UMKC.
Amy Harris' role at UMB and community involvement led her to be named to Ingram's 40 under 40‡ class of 2021. She was also honored with a Women's Justice Award‡ in 2021 from Missouri Lawyer's Media.
To hear Amy talk more about being an empathetic servant leader and giving back, listen to her interview on the Future is Bright Podcast‡ where she describes her career journey.
Stay informed on industry trends and noteworthy company news by visiting our Industry News section on umb.com. 
---
When you click links marked with the "‡" symbol, you will leave UMB's website and go to websites that are not controlled by or affiliated with UMB. We have provided these links for your convenience. However, we do not endorse or guarantee any products or services you may view on other sites. Other websites may not follow the same privacy policies and security procedures that UMB does, so please review their policies and procedures carefully.