A recap of UMB's Undivided Attention event series, including the industries covered, panelists featured and the support of minority-led businesses.
At UMB, we are committed to supporting the communities we serve and keeping a pulse on the needs and challenges facing our community members. One way we do this is through our Undivided Attention event series, where we bring together diverse Kansas City small business owners to hear directly from them about the most pressing issues they face. At each event, we highlight a different industry with a desire to connect local minority-led businesses with under-served populations to resources, information about trends and guidance from panelists who understand their situations and needs.
A time for community leaders to come together
It is important to provide a space for business owners, community members and UMB associates to share lived experiences, listen to unique perspectives, and provide education on financial resources and support programs. Each of our Undivided Attention events begins with this thought in mind.
The model for these events is simple. First, our talented and passionate associates working in community roles share information about the industry, trends and resources. Following the presentation, an equally talented and passionate panel of community members share their insight based on their leadership journeys and their perspectives on the business landscape. The event ends with a question-and-answer session where business owners discuss their banking and resource needs, as well as the gaps and opportunities impacting their industry.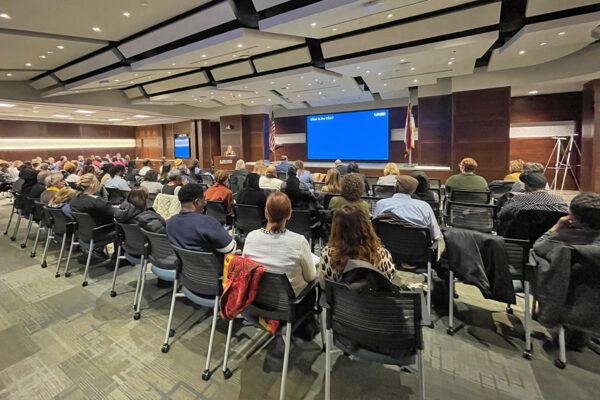 Every industry deserves a spotlight
The Undivided Attention event series sheds light on the biggest challenges facing minority-owned businesses, such as limited access to capital and business networks while diving deeper into each featured industry. At every event, we bring together different experts to provide insight and share their personal experiences. Below are summaries of the industry events we held in 2023:
Nonprofit organizations
With more than 70% of nonprofits' board leadership‡ being white, leadership within nonprofits continues to not reflect minority communities across the nation. The first industry night was led by Nikki Newton, president of private wealth management at UMB Bank and included more than 100 minority-led, minority-focused and urban core nonprofit community leaders.
These nonprofit leaders shared with us the gaps they are seeing in the Kansas City metro low-to-moderate income communities and how we can help fill them in. The event also featured panelists from CHES, Inc.‡, the Mattie Rhodes Center‡, American Jazz Museum‡, OneKC for Women‡ and Riana Maus, senior vice president and director of talent inclusion, diversity and acquisition at UMB Bank.
Retail and restaurant
To date, just 2% of retailers and 40% of restaurant owners are members of a minority population. For our retail and restaurant industry night, we partnered with the Hispanic Chamber of Commerce‡ and Heartland Black Chamber‡ to discuss the challenges these business owners are facing and how the economic forecast will affect minority businesses. The panelists for this event were Rebecca Gubbels from University of Missouri-Kansas' Small Business & Technology Development Center‡, Daniel Smith, co-founder and principal of The Porter House KC‡, Thomas Hof, director of business banking and bankcard underwriting at UMB Bank and India Wells-Carter, owner of Fresh Factory KC‡.
Professional services
We teamed up with the Greater Black Chamber‡ for our professional services industry night and featured panelists including Nia Richardson, managing director at KC BizCare‡ (City of Kansas City), Brandon Calloway, CEO and co-founder of Kansas City G.I.F.T. ‡, Mary Shannon, founder and consultant at Connectus Worldwide‡, and Rochelle Walker, owner of Hughes Walker Group‡. These panelists shared advice from their own experience on how to navigate financial challenges as minority small business owners and discussed areas where the Kansas City community has room for improvement. Community leaders also discussed ideas and strategies on how we can support these businesses in this competitive market.
Construction
Currently, only 11% of construction businesses are minority-owned and just 9% are female-owned. For our construction industry night, experts discussed the impact of an uncertain economic environment on minority-owned construction businesses and discussed ways to overcome these challenges. We partnered with the Hispanic Chamber of Commerce and Heartland Black Chamber to feature leaders in the construction industry like Kisha Bausby from JE Dunn Construction‡, Brandon Dye, owner of Dye Electric‡, Steve Levy, chief operating officer from McCownGordon Construction‡, and our very own Justin Beets, senior vice president and business banking team lead at UMB Bank.
Real estate
The most recent real estate wage gap has white real estate agents earning the highest average salary compared to other ethnicities—and black real estate agents earning the lowest. At our real estate industry night, we tackled conversations around the current forecast for this industry, trends we are seeing in commercial real estate (CRE) and teamed up with the Heartland Black Chamber to feature five insightful panelists. These panelists included Terrell Jolly from Integrity Capital Management‡, Emmet Pierson Jr., president and chief executive officer (CEO) at Community Builders of Kansas City‡, a representative from LoanDepot‡, Tracy Howren, CRE regional manager and director of affordable lending at UMB Bank, and Brennan Crawford, executive director and CEO at Community Housing of Wyandotte County‡ (CHWC).
Our vision is that no industry or business owner will be left out of the conversation. Our hope is that by having this dedicated series and programming there's a shared connection, inspiration, and opportunity to work toward awareness and solutions. This series demonstrates UMB's desire to listen, understand, adapt, and grow to continue to meet the needs of our Kansas City small business community.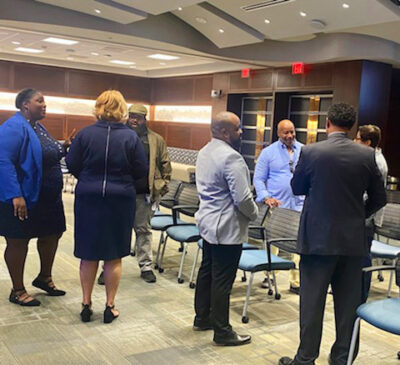 You have our undivided attention.
Learn more about diversity and inclusion at UMB and follow @UMBBank on Instagram for more photos of the company's Undivided Attention series.
---
When you click links marked with the "‡" symbol, you will leave UMB's website and go to websites that are not controlled by or affiliated with UMB. We have provided these links for your convenience. However, we do not endorse or guarantee any products or services you may view on other sites. Other websites may not follow the same privacy policies and security procedures that UMB does, so please review their policies and procedures carefully.