We invite you to download UMB's 2022 Corporate Citizenship and ESG Report. The report describes our approach to environmental, social and governance (ESG) programs and metrics in our employer standards, community connections, environmental policies and risk management practices.
Here, we highlight the programs and policies that support education, growth and professional development for our talented associates.
Professional development
In today's competitive environment, companies must constantly innovate and evolve — and that includes providing opportunities for associates to continuously develop personally and professionally.
One of the best ways to grow professionally is to learn by doing. We typically acquire new knowledge through training and from books or mentors, but applying the concepts in real situations is where true development happens. In my career, the best teacher has been the process of learning through doing, which includes learning through failure. Sometimes we succeed and sometimes we fail. Failure doesn't have to be a bad thing if we use it as an opportunity to learn from our mistakes and improve our skills.
At UMB, we value a culture of development and growth that fosters learning-by-doing in a safe environment. We encourage our associates to experiment and try new things. We believe this is where innovation begins and helps us all collectively learn along the way.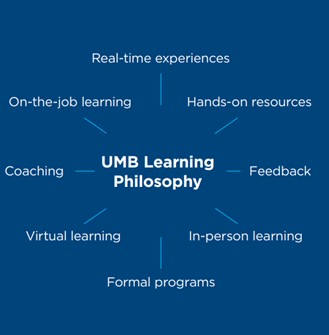 Associate development
I believe anyone can be a leader and there really is no limit to what a person can accomplish when they choose to have a mindset of curiosity and learning. UMB is committed to developing our people and enriching careers by providing the tools and resources needed to succeed. Associates have 24/7 access to our intuitive eLearning system with curated learning paths that include courses, books, videos, labs and skill benchmark assessments. Associates can also participate in free certification prep courses in a variety of professional fields. While it's ultimately the individual's responsibility to own their professional development, we are dedicated to providing tools and support along the way.
Cultivating leaders
Having great leaders has always been an anchor of UMB's success. While anyone can be a leader, effective people managers must understand what makes each person tick and provide the resources and support they need to produce their best work and reach their full potential. That's why UMB provides multiple leadership development programs that help shape the best leaders in our industry. We call this "The Leadership Blueprint." It encompasses an assortment of learning initiatives, platforms and frameworks strategically tailored to foster the personal and professional development of associates and leaders within UMB. Each piece of The Leadership Blueprint aligns with elements of self-management, team leadership and organizational leadership.
All people managers who are new to UMB, or new to managing people, partake in a program designed to give them a framework for leadership, and an introduction to systems and processes specific to UMB. This helps new managers build a strong foundation of leadership skills, which allows them to excel in their role and support the growth of their teams.
Beyond the new manager experience, we designed a leadership development program that every people manager completes. The program's objective is to elevate leadership abilities that foster inclusion and build effective teams that drive the execution of our corporate strategy.
Ensuring a robust leadership pipeline is crucial for the lasting success of our organization.
As we look to the future, it's important that we develop associates who have the potential to lead people and guide our business strategy. UMB offers a 12-month program that is focused on developing leadership skills for these associates. We also conduct thorough talent and organizational reviews annually, which culminate in the formalization of succession strategies for key leadership positions and pivotal roles across various business segments. To bridge any competency gaps, our designated successors diligently pursue personalized development trajectories throughout the year. This is how UMB will continue to grow and be a trusted partner in our communities for the generations to come.
Building the next generation of leaders
As previously shared, we value our people and support their development. Tuition reimbursement helps associates further their undergraduate or graduate education in areas that relate to their role within UMB or to the financial services/banking industry. Since the program launched in 2012, UMB has reimbursed more than $3.9 million for the tuition costs of associates. We see this as a good investment in not only our people, but the future of UMB.
When I think of future leaders, I can't help but think of the next generation. UMB's "Count on more" Scholarship Program is a merit-based program that provides financial assistance to children and grandchildren of UMB associates who plan to continue their education in a college, post-secondary vocational or technical school program. Recipients are selected through an application process and must meet specific requirements. This program has been in place since 2011 and has so far awarded 128 students with $652,000.
Delivering on our promise
Count on more is a rallying cry in our culture, inspiring us to deliver on the promise of being more than the words every company offers—we are dedicated to being the advocate and driving force behind the words. That's why we dedicate resources to ensure our associates have opportunities to build their professional acumen and help UMB continue to expand and adapt to the needs of our associates and customers.
To learn more about UMB and our connections to the communities we serve, visit our community involvement page and follow us on Facebook‡ and LinkedIn ‡.
---
When you click links marked with the "‡" symbol, you will leave UMB's website and go to websites that are not controlled by or affiliated with UMB. We have provided these links for your convenience. However, we do not endorse or guarantee any products or services you may view on other sites. Other websites may not follow the same privacy policies and security procedures that UMB does, so please review their policies and procedures carefully.