UMB is proud to support its associates with tuition reimbursement assistance that allows them the opportunity to continue their higher education. Eligible associates may be reimbursed up to $5,250 per calendar year to pursue education in areas that relate to their role within UMB or to the financial services and banking industry.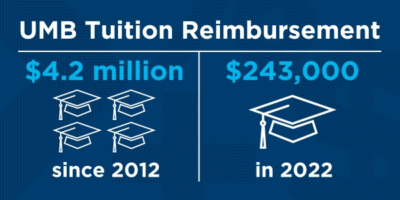 Discover what UMB associates have to say about the program
Ryan Potts, Regional Operations Manager for UMB in Denver graduated with his bachelor's degree in business from the University of Phoenix in 2021 with assistance from UMB's tuition reimbursement program. Ryan has been an employee at UMB for 20 years and cites this program as the best benefit he has taken advantage of with the company. He uses skills learned during classes for his day-to-day work, and he's proud to work for a company that helped him obtain his degree and do so without any student loans.
"It helped me avoid student loans."
Whitney Skye Flaska, Project Manager and ARM Trainer in Corporate Trust, completed her Master of Business Administration degree from Missouri Western State University with help from UMB's tuition program. She says the ability to complete her degree gave her not only improved clerical, interpersonal and time organization skills, but also more confidence in her work.
"The program gave me confidence."
Riana Maus, SVP, Director of Talent Acquisition, Diversity and Inclusion earned her master's degree while working for UMB and credits learning and working at the same time to being able to immediately apply skills to real-world situations. She says the secondary education she was able to receive provided the foundation for many skills she currently uses and the opportunity to furthering her education allowed her to bring new knowledge to her work.
"I had a new appreciation for education as a professional than I did as a student. I was excited to bring my learnings back to UMB."
Caitlin Hopper, SVP, Director of Content Strategy, earned her Master of Science in strategic communication from Purdue University while working in the Sales, Marketing and Communication Department at UMB. She notes that the experience helped her build knowledge in social media, crisis communication, strategic and executive communication, and reporting and analytics. Additionally, her program focused on presentations and public speaking, which are invaluable skills in her day-today work.
"Not only am I using my skills for UMB, I know my degree provides a career-long benefit."
John Quinn, Senior Operations Manager in UMB's Institutional Banking Division, earned his master's degree in business administration from Baker University. He started his MBA program around the same time he began working for UMB. He says the tuition reimbursement allowed him to complete the degree program in its entirety without needing to take a break for financial reasons.
"This gave me the confidence to look into furthering my career."
UMB is committed to developing our talent and enriching associate careers by providing the tools and resources needed to succeed. We believe effective associate development is company-provided, manager-supported and associate-driven.
To learn more about life at UMB, from company culture to community involvement, visit our website.