Margaret Langford, commercial relationship manager at UMB, was recently selected to Centurions‡, a two-year development program for emerging leaders through the Kansas City Chamber. Learn more about her role at UMB and what drives her passion and support for the Kansas City community.
What is your role at UMB?
I am a commercial relationship manager, working with businesses all around Kansas City. My role is constantly changing based on my customers' needs, as well as what the bank needs. Building relationships both with my customers as well as internally is a key component to being successful. The customers and bank put a lot of trust in me, but I also must have that level of trust with each one of them for the equation to work.
What does your day look like?
My day-to-day job involves working directly with customers – solving problems, answering questions and helping them achieve their goals by providing guidance, funding working capital or working through strategic plans. My job is a balance between social engagement and execution on the banking side of my customers' businesses. I spend the majority of my time with customers, prospects and the community through face-to-face meetings or social events. Another large portion of my time is spent analyzing companies' financials, underwriting credit and obtaining approval from the bank by presenting each deal to our loan committee.
How long have you been in the banking industry?
I have been in commercial banking for 10 years and joined UMB in June 2022. One of the reasons I joined the bank was to be part of a company that is making a difference in Kansas City. I have seen that repeatedly when the bank steps up for a customer in need or supports an organization that I believe in. UMB continues to support our local economy in countless ways and has shown that same kind of support to me as an employee. Luckily, there have been so many moments in my career that have been fulfilling and helped me realize I was in the right role.
What is your leadership style?
In my career, I have learned a lot by watching others lead. I approach my own leadership by leaning into those experiences, good and bad, and finessing my own style. I have always had people in my career who I have been able to look up to, and I try to take something from each one of them to weave into my leadership roles.
One of the best leaders I have ever worked for was the bank president at the time who taught us that no one person is more important than another in the organization. He expected his employees to know people outside of their groups and show appreciation to those who would not typically receive it. I have tried to instill that in my own leadership by going out of my way to give kudos or gratitude to someone who might not be expecting it. That approach has gone a long way in building relationships inside and outside my organizations.
What do you enjoy doing outside of work?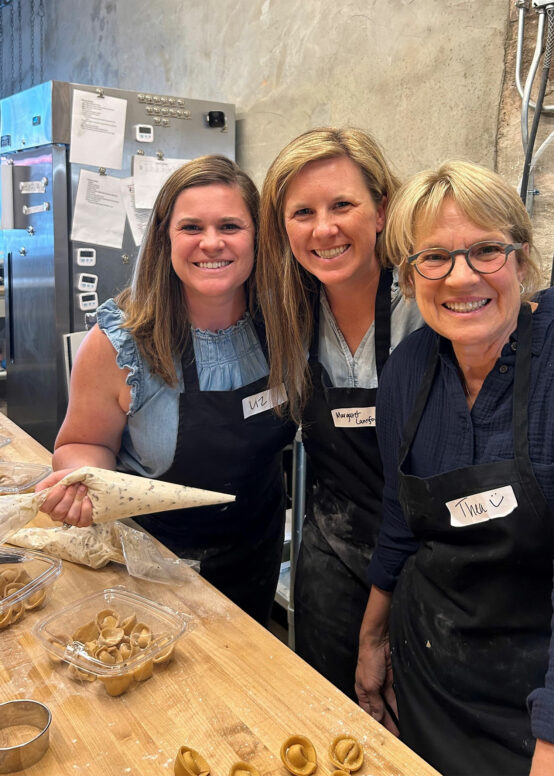 Life for me is full of movement, adventure and fun with my husband, Alex, and our two kids, Anna and George. Alex and I are raising our kids with a focus on life experiences for all of us. Traveling has been a huge part of my life, and I like to think I am passing the travel bug onto the rest of my family. My grandparents passed it on to my parents, who passed it on to me and my three siblings. I believe that understanding other cultures, people and traditions helps bring people together.
A newer interest of mine has been experiencing different cultures at home by making cuisines from around the world. Not only do I enjoy eating (almost) all foods, but I have really enjoyed learning to cook those foods, as well.
What are you passionate about?
I am passionate about making a difference in the world, which has carried different meanings at different times in my life. It has shown in my volunteerism at Children's Mercy‡, which has been one of the biggest blessings.
One theme that has been consistent in my life is my love for kids, and that shows in my involvement in several organizations. When I was in college at the University of Arkansas, I was a Big Sister with the Big Brothers Big Sisters program for three years until I moved to Kansas City in 2017. Once I moved to Kansas City, I became involved with Children's Mercy volunteering on Thursday nights at Partners in Play. I took a break from being a weekly volunteer once my son was born, but it was the highlight of my week when I could play games or do crafts with the warrior kids in the hospital.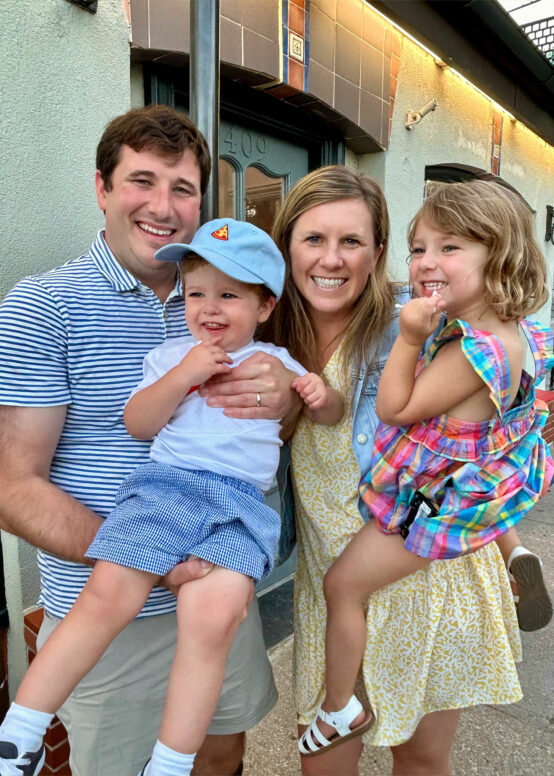 My passion for kids also led me to join the young professionals board at HappyBottoms‡, raising awareness about the organization that helps alleviate diaper needs in Kansas City. HappyBottoms continues to advocate for diapers to be added to government programs such as food stamps, Medicare and WIC, which is essential to help bridge the economic divide. I continue to look for ways to lift the kids in our community up, and Kansas City has no shortage of options to volunteer with youth in the area.
I believe local businesses are key drivers of any economy, and the larger corporations should be their biggest supporters. Working for a regional bank, I have seen the direct impact we can have on those businesses—most notably how we can amplify their voices and be a driver of growth for them.
Stay informed on industry trends and noteworthy company news by visiting our UMB in the News section on umb.com. Follow UMB on Facebook‡ and LinkedIn‡ to see regular updates about our company, people and timely financial perspectives.
---
When you click links marked with the "‡" symbol, you will leave UMB's website and go to websites that are not controlled by or affiliated with UMB. We have provided these links for your convenience. However, we do not endorse or guarantee any products or services you may view on other sites. Other websites may not follow the same privacy policies and security procedures that UMB does, so please review their policies and procedures carefully.